My name is Jim Vander Spek.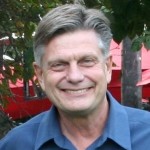 I was born in Canada and attended grade school in Canada, the Netherlands and California.  My parents were immigrants to Canada and the US and would not settle down.  We five kids were dragged all over the place.  I am continually thankful that they made it all the way to California before they stopped doing this. I was a Junior Higher at the time.
I am married to my beautiful high school sweetheart, Marsha.  We have two wonderful children and six fabulous grandchildren.  They are living in actively Christian, intact families not too far away.  We are blessed!
I graduated from Azusa Pacific University with a dual major in Biblical Studies and Business Administration.  I also attended Fuller Theological Seminary for a few years.  I thought I would be a pastor.  Other doors opened and I don't regret that they did.
I left seminary and went to work with several Christian non-profit organizations.   From there, I joined a CPA firm to provide services for mostly Christian non-profit organizations and churches.  Finding out that I liked the accounting and consulting world, I have stuck with it and presently am a part of a very enjoyable CPA business working with a dedicated group of talented CPAs.  Because they work so hard I can find time to have fun doing things like writing and surfing.
We have attended Cross Connection Church (formerly Calvary Chapel Escondido) for over twenty-five years and I have held a number of leadership roles there.  I have also been active on the boards of various non-profit organizations and am currently the treasurer of Shepherd's Staff Missionary Facilitators.
In addition to writing, I also speak on the subject of overcoming lust.  Use the contact form below if you want to learn more about that.